Salt Magazine's Top 100
Congratulations to Ashifi for being honored by Salt Magazine for making the top 100 Most Compassionate Business Leaders. We join Salt in celebrating a movement towards corporates using their considerable power for good.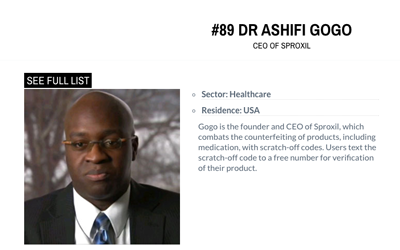 Who makes the list?
The Salt team drew on its collective years of experience within the world of business and environmental sustainability to draw up a list of global compassionate leaders based on the following criteria:
SUSTAINABILITY Leadership in terms of: renewable energy; resource conservation; agriculture; social and economic sustainability. INNOVATION Have they pioneered ideas within their industry? COMPASSION Have they created a company that transcends the standard business paradigm? IMPACT How many lives have they changed?
See Ashifi at: Ashifi Gogo on Salt